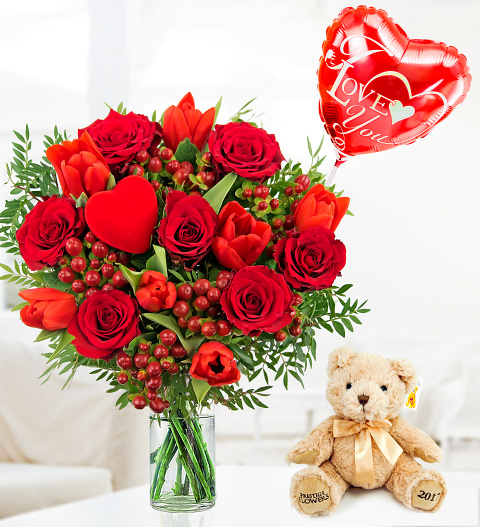 Thu 09 Jan 2020
Romantic roses for the one you love
For those who like to plan ahead, Valentine's Day is just over one month away and it's time to start thinking about how you will surprise that special someone. If you have a set tradition, this should be easy. Of course, if you try to outdo yourself each year, it will become increasingly challenging. Romantic roses, luxury chocolates and stuffed animals are all part of celebrating this day of love. Here are some ways of getting the atmosphere just right for your partner or spouse.
Fresh flower delivery
One of the things that you simply cannot leave out of your Valentine's Day plans are romantic roses! While red roses are known to be the top choice for this occasion, you can also choose pink ones if you know that this is what your Valentine prefers. Have the bouquet delivered to their work address if they are working on that day. Alternatively, you can have them delivered to your home address if Valentine's Day falls on a weekend.
Cryptic note
Include a special message to go with your romantic roses. This is the perfect opportunity to declare your love and you can give your partner a hint as to what you have planned for that evening. You don't want to give too much away though!
A little something extra
If you like, you can choose to include something extra with your romantic roses. Luxury chocolates, a bright balloon or cuddly bear are all excellent ideas. The best part of all is that you can order these extras along with your flowers so that they are delivered together.
Decorate your home
If your partner is at work or if they go out for a few hours, you have time to get your home ready. Rose petals are perfect for creating a pathway from the door to the bedroom . You can also decorate the bathroom with rose petals and candles. Have some champagne on ice and get the tub ready too. As soon as you know that your partner is on their way home from work or wherever they have gone, you can start running the hot water and add some bubbles for good measure! Put on some relaxing music and wait for them to arrive so that you can surprise them.
Dine in or out
Now that you have welcomed your Valentine home, you can proceed to get ready for a night out or dine in. This all comes down to personal preference. If you are planning on dining in, you can decorate the table with candles, romantic roses and rose petals. You should also make sure that you have the perfect meal planned. If you are not much of a cook, make sure that you order your meal early and keep it all warm until you are ready to eat. Obviously you should plate the food rather than eat out of Styrofoam dishes but you don't have to worry about all the food prep at least.
Once dinner is done and you have enjoyed a lovely evening together, you can rest assured that the romance will last thanks to your fine choice of romantic roses! Whenever your partner looks at them, they will remember the wonderful evening you enjoyed together and this helps keep the romance alive for more than just one day.