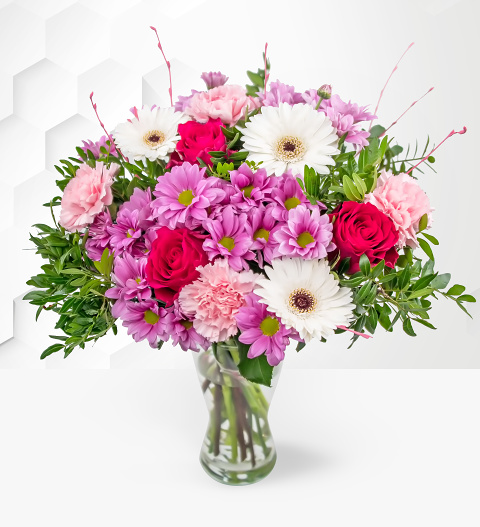 Thu 28 Nov 2019
Cyber Monday flowers for Christmas
Black Friday is a popular day for shopping and many people do their Christmas shopping on this day. Of course, all too often, we get tied up with other responsibilities or we end up missing out on the best deals. Not to worry, Cyber Monday flowers and great deals are just a click away and you can still order discounted gifts before Christmas!
Get ready for great discounts
Just like Black Friday, you can expect amazing savings on Cyber Monday flowers thanks to this special online shopping opportunity. Since the special prices will only last for one day, it's important to get your order or orders in early. Just like Black Friday, stocks are limited and you never know how many people are shopping too. So, as soon as the deals are available, you need to be ready to snap them up! It can be really handy for you to browse before the time and prepare yourself in terms of what you like, what you are looking for and do some budget planning too, while you're at it. Keep your payment details and delivery details handy so that you don't have to deal with any unnecessary delays.
Enjoy shopping from home
Seasoned online shoppers know just how convenient it is to click and order instead of visit physical shops. Not to mention when there are savings to be had and the shops are overrun with desperate bargain hunters. Cyber Monday flowers will be available online from the moment the sale begins until stocks or time runs out. It is bound to be a bit of an online shopping battle but at least you don't have to worry about people pushing and shoving their way from isle to isle.
Schedule the deliveries
Once you have selected all of the Cyber Monday flowers and any other gifts you would like, you will need to arrange for the delivery. In some cases, you may have to place separate orders in order to enter different delivery addresses. Make sure that you ask the vendor before Cyber Monday so that you can be prepared for this before you begin shopping. If you want all or at least several gifts delivered to your home, this is certainly an option. It is a great option, in fact, if you plan on presenting your Christmas gifts in person. For those who live far away, a direct delivery would prove more convenient.
Even if you missed out or intentionally skipped Black Friday, you still have a chance to save big with Cyber Monday flowers. Keep an eye out to see when the sale begins and be ready to shop to your heart's content!