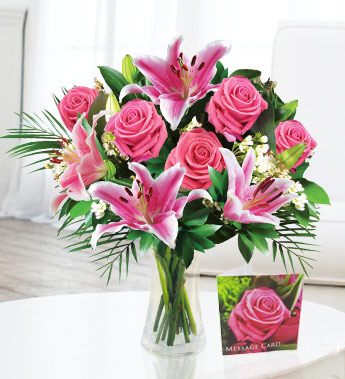 Fri 22 Jun 2012
Stunning Rose and Lily bouquet available for UK next day delivery!
Roses are widely regarded as one of the most beautiful and sought after flowers in the world, with Lilies ranking high up there as well. Combine the two, and you have an incredibly beautiful floral combination. Read on to find out more about this fantastic product which is available for next day UK delivery!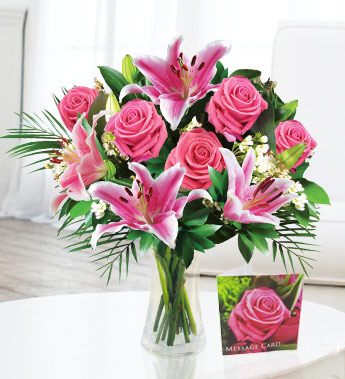 In this bouquet, you will find professionally organised, Tall stemmed gorgeous pink  Roses, paired with beautiful Pink/white Lilies , with the two different flowers complimented by  a fresh rich bed of green palm foliage. This bouquet is designed to melt the heart of it's recipient , along with the complimentary free Belgian chocolates that add a little extra touch making this an ideal gift for your special someone, and letting them know how much you care about them.
At £19.80, this is an incredible bargain considering the care put into making this bouquet nothing short of exquisite, as well as the free Belgian chocolates,  and don't forget, these flowers are available for next day delivery in the UK, meaning the recipient will receive this beautiful bouquet at their absolute freshest, letting them enjoy your gift to them for the longest time possible.
Have a look at this excellent bouquet following this link