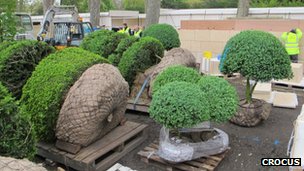 Fri 01 Jun 2012
After the Event- Where do the Flowers go at Chelsea
The Chelsea Flowers show is the largest flower show on the planet. Its often wondered where does it all go afterwards? It is estimated that a single garden production at the flower show costs around £198,000 to produce. These exhibits are quite expensive and many hope to get their green fingers on them.
Chelsea always manage to produce the most spectacular gardens along with spectacular tropical and rare flowers. The flowers arranged to last for at least five days, however the potted flowers are very much sought after.
As history has, at Chelsea Flower show in 1950, King Edward purchased the entire flower show and relocated it all to his private estate!
People are ready to buy the flowers when the Chelsea show finishes at 4pm on the last day. The most sort after flowers are those which have been awarded flowers. Many of the flowers and plants have been on loan for the exhibit and need to be returned for various reasons such as if the seeds are valuable. Off course a lot of the flowers need to go back to the warehouses to be revived due to thirst, once they are back in top form can they then be sold off.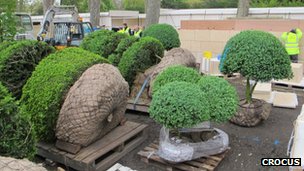 In the older days some if the larger exhibits transportation can be very difficult and expensive. It has been known for some larger flowers and plants to be dumped at skips with marble and wooden structures. Today this is unacceptable, and all garden exhibitions have to be created with consideration towards the environment.