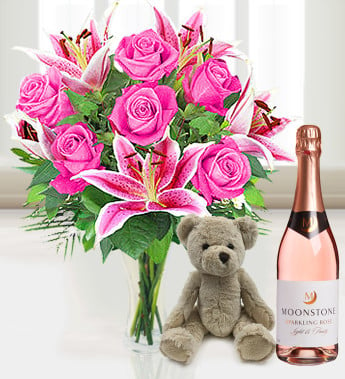 Sun 21 Feb 2016
Choosing an extra gift to go with your online flower order
When you order flowers online, you will notice that the online florist also offers a variety of optional extras. These extras are the perfect option for the complete gift. Instead of shopping around for gifts, you can find everything you need all in one place. The key is to choose the extra gift based on what you know the recipient will enjoy most of all.
Chocolates
Nothing says I love you better than a bouquet of fresh flowers and a delicious box of fine chocolates. The chocolates offered by most online florists are of the luxury variety. These chocolates are perfectly packaged and they taste just as good as they look. If you know that the intended recipient has a sweet tooth, then this will be the ideal choice of extras to add to your order.
Champagne
A bottle of bubbly is perfect for any celebration. Whether you are sending birthday flowers, anniversary flowers, or a fresh bouquet for any other happy occasion, you can choose to add a sparkling bottle for the recipient to pop open on their special day.
Balloons
Bright and colourful balloons can help add even more colour to the bouquet. They are particularly popular when welcoming a new baby, celebrating a birthday, or another achievement. The recipient can choose to keep the two together or display the flowers in a separate location to the balloons.
Stuffed Animals
Cuddly teddy bears and similar stuffed animals are a wonderful keepsake. When you send this kind of extra gift, you can be sure that it will last for a long time. Chocolates, champagne, and similar items are consumed whereas teddy bears last far longer and, every time the recipient looks at it, they will remember the lovely gift that you sent.
Cakes
Some florists offer birthday cakes and similar delicious treats as optional extras. If you want to send flowers to somebody special on their birthday, then why not add a cake to your order?
Vases
Vases are usually one of the most popular optional extras. They are great since the recipient won't need to hunt for one when your flower delivery arrives. That said, you might not have to pay extra for this item. In some cases, it can be included for free as part of special offers.