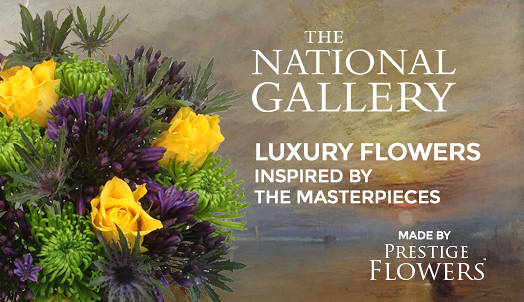 Thu 02 May 2019
2019 B&LLA Awards Nomination for Luxury Flowers
Prestige Flowers is proud to announce our nomination as a finalist for the 2019 B&LLA Awards. We were nominated for our National Gallery luxury flowers collection. These awards recognise excellence in various areas of business. These areas include product innovation, retail execution and brand licensing management in the brand and lifestyle licensing market.

Our Luxury Flowers Nomination
We received the finalist nomination under the Inspired Innovation Brand Licensed Product or Range category. Our National Gallery range includes some of our most impressive and inspired floral arrangements designed to evoke a variety of emotions.





Left to Right from Prestige Flowers, Becky Poole (PPC Executive), Philip Crowther (Business Development Manager) and Maryam Ghani (Digital Marketing Executive)
Our National Gallery Luxury Flowers
Inspired by some of the most famous works of art in history, our National Gallery flowers are supremely unique. From Van Gogh's Sunflower painting to the whimsical snow scene by Monet, every bloom represents a particular element depicted by the artist. We take into account both colours and textures. Dominant focal flowers reflect the main features of the painting. We also take our lead from the stories behind these famous works of art and the artists themselves.

Monet Snow Scene
Designed and arranged exclusively for The National Gallery in London, each bouquet is carefully put together. These bouquets are available for next day delivery in the UK. We designed each of these bouquets with a particular work of art as its inspiration. In addition, Prestige Flower also ensures that they are suitable for specific occasions such as Valentine's Day, Christmas, Mother's Day and more. This makes the range both luxurious and versatile when it's time for gift shopping.

The Inspiration Behind this Collection
When such inspiration strikes, it often has people wondering where such an idea came from. As the largest importer and distributor of fresh produce in the UK, Prestige Flowers already had an impressive selection of products and flower arrangements. We were, however, looking for something else – something different and something that had not been done before. This is when we decided to partner with the National Gallery to take our designs to the next level and attract those with particularly refined tastes.


Jean-Marc Nattier
Experienced Florists
We are proud of our dedicated, professional and highly-trained team of florists at Prestige Flowers. Many of our team members have more than 30 years of experience which allows them to work quickly and carefully when creating any inspired piece of floral art. Our experienced florists create each design with the utmost attention to detail. We select every flower based on its suitability and quality.

Initial Launch and Popularity
Just like any new product range, when we began this venture, we decided to start with four core designs. These were arrangements based on Van Gogh Sunflowers, Turner – The Fighting Temeraire, Bosschaert – A Still Life of Flowers and Gainsborough – Mr and Mrs Andrews. We were extremely pleased with the way that these designs were received. This is why we decided to move forward and expand the range to include even more designs.


Van Gogh Bouquet
We introduced our first seasonally themed products in time for Christmas 2015. The Wilton Diptych bouquet is the floral representation of the left and right Medieval panel painting of angels surrounding Virgin and Child. Peach avalanche roses represente the flowers on the angles heads. The blue agapanthus and geminis symolise the blue and yellow aspects in this masterpiece.

Our Latest Luxury Flowers Additions
More recently, we included Jean-Marc Nattier in time for Mother's Day. With beautiful peach roses, this arrangement really is a declaration of love for mum. Since these arrangements are in such high demand, we anticipate the addition of even more fabulous pieces to this collection. This year marks the 500th anniversary of Da Vinci's death. His Virgin of the Rocks painting is sure to gain extra attention as a result and our corresponding Da Vinci bouquet will enjoy some added exposure too. To create this truly refined design, we included Da Vanda orchids as representatives of the rocky surroundings. The callas add a lighter touch much like the way the lighting varies in the painting.

Da Vinci
This inspired range of luxury flowers really brings some of the most famous paintings to life. We source the very best blooms from around the world to achieve just the right visual effect while maintaining our high standard of quality. Whether we include several blooms are in the design or a single type of flower, each of our impressive National Gallery designs has left flower enthusiasts completely captivated by their beauty.