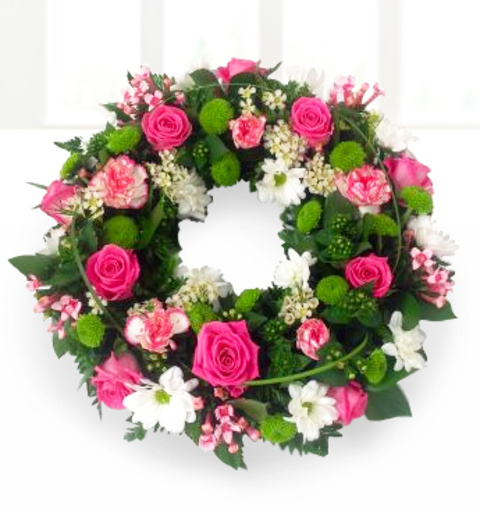 Wed 12 Jun 2019
Choosing the right funeral wreath
Funerals are not occasions that we like to think about but they are a part of our lives. Although they are sad occasions, they are also a chance for everyone to say their final goodbyes. This is extremely important in terms of closure and moving forward. When it comes time to honour a loved one's life, flowers are always considered a thoughtful and appropriate gift. If you would like to order a funeral wreath, here are some tips to keep in mind.
What is a funeral wreath?
This floral design is made specifically for funerals. They are made in a circular shape much like any other wreath. Wreaths can be sent directly to the church, crematorium or you can have them sent to the family if this is what they prefer.
Avoid these mistakes
When sending a wreath to the location of the funeral service, you should not only address the card to the family, but the deceased as well. Honour them with a message as well as flowers. Make the message personal and comforting. This is the sign of true support during this difficult time.
Another common mistake is thinking that you are limited to a certain type of flower or white and green wreaths. This is not the case. Remember, your funeral wreath is a token of your love. It is your final gift to the deceased. Which is all the more reason to look for a wreath that includes their favourite flowers or favourite colour. Funeral flowers are not limited to white blooms alone, Colourful flowers are a respectful way of expressing your joy that you at least got to know the deceased.
Avoid certain flowers that send the wrong message. Red roses, for example, are considered romantic and passionate. If they loved roses, you should ask your florist for a different colour so that you don't give anyone the wrong impression.
Formal versus informal
Some funerals are more formal than others. Feel free to check with the church or venue to establish what to expect. This way, you can order a funeral wreath that will prove suitable and not out of place.
Sending flowers from a distance
If you are not able to attend the funeral but you still want to show your support and respect, you can order funeral wreaths online. The florist can deliver them directly to the funeral venue or another address. Just make sure that you include the full address and place your order in advance. The flowers should be delivered the day before the funeral.
If you ever feel lost and unsure when it comes to choosing a funeral wreath or sympathy flowers, you can always shop for flowers online. Your online florist will have a dedicated funeral and sympathy section from which you can choose the best designs.