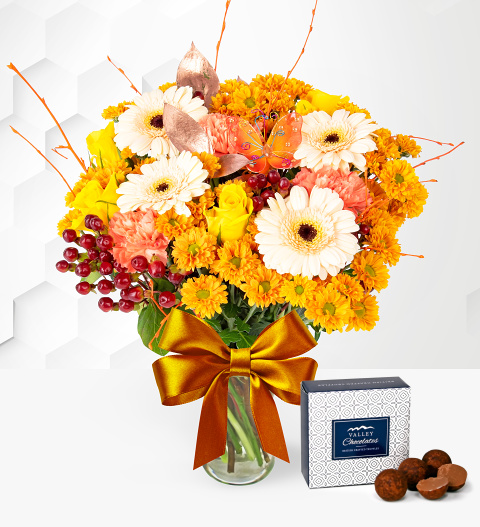 Mon 12 Oct 2020
Birthday flowers for the month of October
You may already be aware of the fact that each month is associated with different birthday flowers. For the month of October, this bloom is the marigold. Not only can these birth flowers inspire you in terms of choosing the perfect gift, but they will also let the recipient know that you really put some extra thought into their gift this year.
About marigolds
In ancient Greece, India, Rome and other Middle Eastern cultures, these birthday flowers were used in a number of practical ways. They were used to treat various health problems, as a dye for clothing, to add flavour to food and even to create cosmetics and make up. One culture in particular, the Aztecs, used these blooms as a form of defense when going into battle. They believed that these flowers held magical properties.
Flower meanings
Just like any other bloom, these birthday flowers are known to send different messages. These messages include joy, strength, grace, success and they can also symbolise the remembrance of loved ones who have passed away.
Can you send these blooms?
Marigolds are not like roses, lilies and other cut flowers. If you want to send them as birthday flowers, it is best to do so in the form of a potted plant. If you remove them from the soil or cut the flowers, they will not last long at all. In addition, these plants are small and the flower stems are very short. Remember, they bloom only for a single season and the flowers will produce dozens of seeds. Let the lucky recipient know that they should harvest these seeds and allow them to dry out over the winter. In the spring, the seeds can be planted and many more marigold plants will grow! This can be repeated year after year to keep their garden colourful and it also helps keep insects like mosquitoes away.
Of course, if you cannot get your hands on marigolds, you can always order a beautiful bouquet of birthday flowers from your favourite florist. During this time of year, the ideal colours include orange and red with perhaps a touch of yellow. Some of the best flowers include chrysanthemums and gerbera daisies since they are available in various colours and they are rich in texture much like marigolds.